The kids will be starting school soon! Still eating sandwiches? Get a new twist. These easy recipes will help your kids get more energy in school.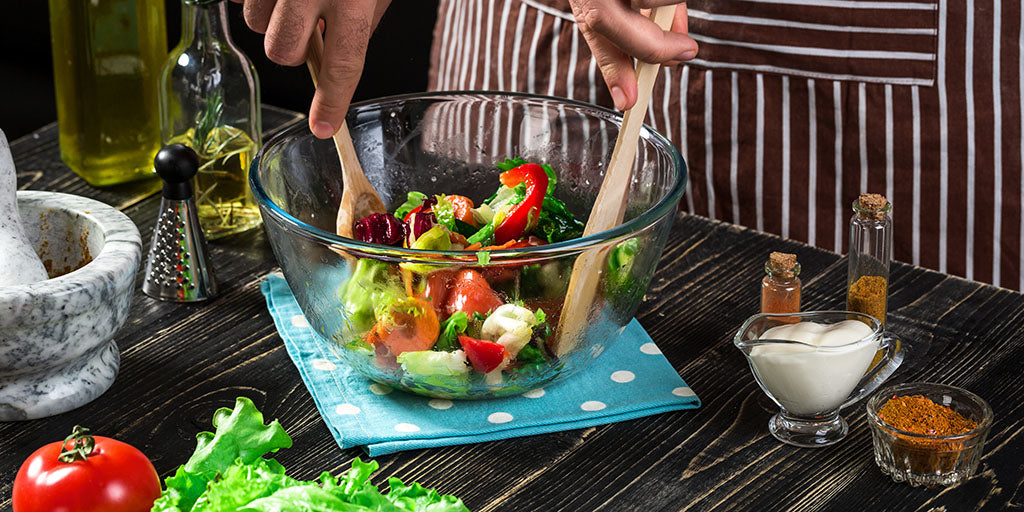 Oven-Roasted Mixed Vegetables With a Maple Glaze 🥗 via.@Jolinda Hackett
Ingredients
1

 

pound

 

sweet potatoes

, sliced into 1/2-inch-thick rounds

1

 

medium head

 

cauliflower

, about 2 cups, separated into florets

9

 

ounces

 

Brussels sprouts

, about 2 cups, halved

2

 

tablespoons

 

unsalted butter

1/4

 

teaspoon

 

salt

1/8

 

teaspoon

 freshly 

ground black pepper

2

 

tablespoons

 

maple syrup
Instructions
Preheat the oven to 400 F.
On a rimmed baking pan, evenly scatter the chopped sweet potatoes, cauliflower, and Brussels sprouts in a single layer and set aside.
In a small microwavable bowl, place the butter or vegan margarine, maple syrup, salt, and pepper and microwave on low setting, just until the butter or vegan margarine is melted. Give it a quick stir to combine everything.
Immediately (before it cools!) pour this maple glaze over vegetables and sweet potatoes and gently toss it all together to coat the vegetables and sweet potatoes as evenly as possible.
Place the baking pan in the oven and cook until tender, about 40 minutes, stirring halfway through.
Serve and enjoy!
Tip:
You can use
Acekool Air Fryer
instead of the oven, it only takes 30 minutes.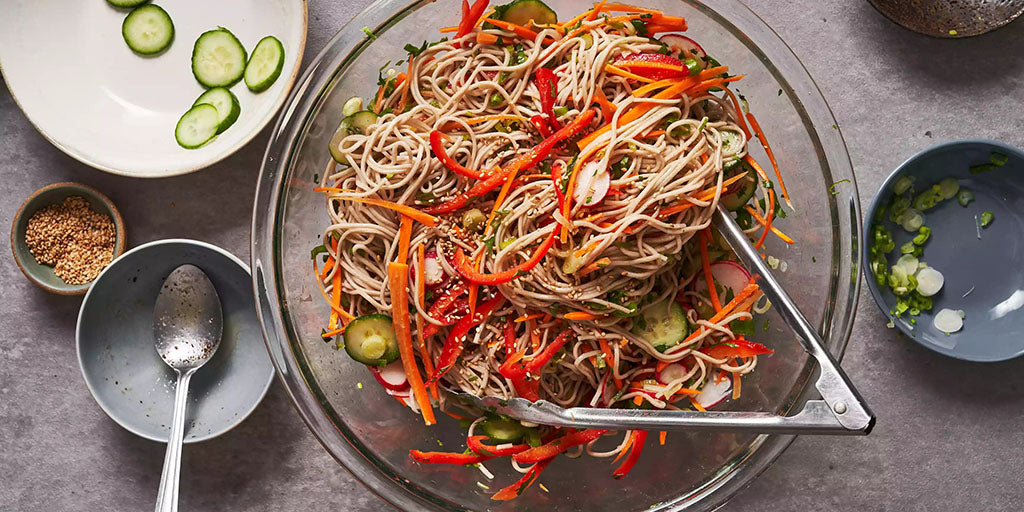 Cold Soba Noodle Salad 🍝 via.@Laurel Randolph
8

 

ounces

 dried 

soba noodles

2

 

tablespoons

 grapeseed oil, or 

canola oil

1

 

lime

, juiced

1

 

tablespoon

 grated 

fresh ginger

1

 

tablespoon

 

rice wine vinegar

1

 

teaspoon

 

sesame oil

1

 

teaspoon

 

honey

1

 

teaspoon

 

chili sauce

, such as Korean chili sauce, or Sriracha

1

 

dash

 

salt

1

 

dash

 freshly ground 

black pepper

4

 

small

 Persian 

cucumbers

, thinly sliced

2

 

carrots

, cut into matchsticks or coarsely grated

1

 small red or 

yellow bell pepper

, thinly sliced

6

 

small

 

radishes

, thinly sliced

4

 

spring onions

, sliced

2

 

tablespoons

 packed chopped fresh 

cilantro

1

 

tablespoon

 

sesame seeds
Gather the ingredients.
Cook the soba noodles according to the package directions. Rinse with cold water and drain well. Set aside.
Make the dressing. Combine the oil, lime juice, ginger, vinegar, sesame oil, honey, and chili sauce in a small mixing bowl. Season with salt and pepper and mix well until combined.
In a large bowl, combine the soba noodles, cucumber, carrot, bell pepper, radish, spring onion, and cilantro. Add the dressing and toss well to combine. Taste for seasoning.
Top with sesame seeds and serve immediately or store in the refrigerator for up to one day. Toss again before serving.
Mini Lunchbox Pizzas 🍕 via.@eatingwiththekids
Made using 2 ingredient dough these little pizzas are perfect for lunchboxes and parties 

Ingredients for 12 mini pizzas
150g Greek yoghurt

160g self raising flour

Pizza sauce*

Toppings of choice

Handful of grated cheddar

*To make a simple pizza sauce mix 1 tbsp tomato purée with 1 tbsp water and a pinch of oregano and garlic granules

Instructions
preheat the oven to 180c fan

lightly grease the mini loaf tray

in a large bowl mix the yoghurt and flour to make a dough - add more flour if it's too sticky to handle

roll it into a log shape then cut into 12 slices

press each pizza base into the mini loaf tray

top with pizza sauce, then a teeny bit of topping (today I did chicken & sweetcorn, ham & mushroom)

add a sprinkle of grated cheddar

bake for 25 minutes

❄️ freeze for up to 3 months

Grilled Corn Summer Pasta Salad 🍝 via. @Rachel Gaewski
Ingredients for 6 servings
Pasta Salad
2 ears corn
olive oil, for brushing
8 oz dried orecchiette pasta, cooked according to package instructions
2 cups cherry tomato
½ cup red onion, diced
1 avocado, diced
Cilantro-Lime Vinaigrette 
1 ½ cups fresh cilantro
⅓ cup olive oil
3 tablespoons lime juice
1 clove garlic, roughly chopped
½ teaspoon chili powder
2 teaspoons honey
salt, to taste
pepper, to taste
Microwave the corn on a microwave-safe plate on high for 7 minutes. Remove from the microwave, and grip the corn with a dish towel. Then cut off the bottom end with a serrated knife. Slide the corn out of the husk. It should come out fairly easily with none of the silky string mess.
Brush the corn with olive oil, then place on a cast iron grill pan or outdoor grill over medium-high heat. Grill for 5-6 minutes on each side, until the kernels are slightly charred.
Insert the narrow end of an ear of corn into the center hole of a bundt pan. Holding the corn steady with one hand, saw off the kernels with a serrated knife. The kernels will fall into the pan for easy collection.
Make the cilantro-lime vinaigrette: Combine the cilantro, olive oil, lime juice, garlic, chili powder, honey, salt, and pepper in a food processor and blend until smooth.
In a large bowl, add the pasta, corn, tomatoes, red onion, avocado, and vinaigrette, and mix until well-combined.
Enjoy!